Your client lives and works in a medieval building (1340) where mold is present because of rising damp. It is hard to remove this since the construction is old, the walls only consist of one massive layer which allows moisture through it and furthermore the client is not the owner but a tenant.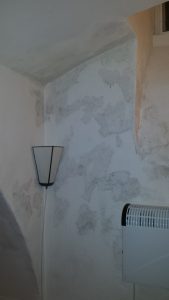 Health issues of the client might be caused by the mold and thus he would like to get advice about the specific actions he should take to live in a healthy environment again.
Do you want to solve this problem by analyzing the causes for the mold and find solutions to make the mold dissapear? Then subscribe for this assignment!